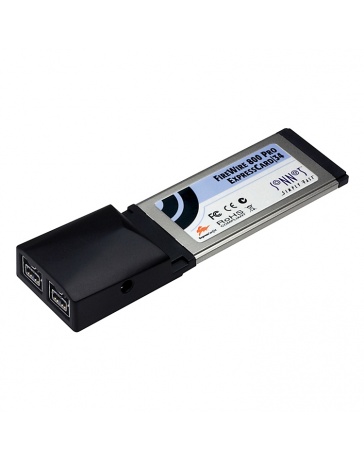 Maximize
Firewire 800 pro expresscard 34
High-Speed, High-Bandwidth Ports for Notebooks
High-Speed, High-Bandwidth Ports for Notebooks
Sonnet's FireWire 800 Pro ExpressCard/34 provides you the ability to connect the fastest FireWire® multimedia peripherals to your MacBook Pro or Windows notebook computer with an ExpressCard slot. Do you work with files stored on external hard drives? You may not be getting the maximum performance from them. Many drive enclosures include a FireWire 800 (1394b) interface, which provides up to twice the data transfer speeds and bandwidth of FireWire 400 (1394a), both critical attributes when working with multimedia applications. Don't settle for a slower connection and less than maximum performance; get a Sonnet FireWire 800 Pro ExpressCard/34 adapter to add the FireWire 800 ports you need!
* Sonnet FireWire 800 Pro ExpressCard/34 tested against other major brands' FireWire 800 ExpressCard/34 adapters, using 4GB transfers between a MacBook Pro running Mac OS X Version 10.5.6 and a 2-drive hardware RAID 0 array.
No customer reviews for the moment.
30 other products in the same category:
No Trouble Brussels

Phone:

+32 2 248 16 96

Mobile:

+32 478 24 20 04

Address:

Rue Artan, 120

1030 Bruxelles

Belgique

No Trouble Genappe

Address:

Rue Bruyère d'Elvigne, 6

1470 Genappe

Belgique
Blog categories
Search in Blog
Newsletter
Subscribe to our newsletter to receive exclusive offers and the latest news on our products and services.