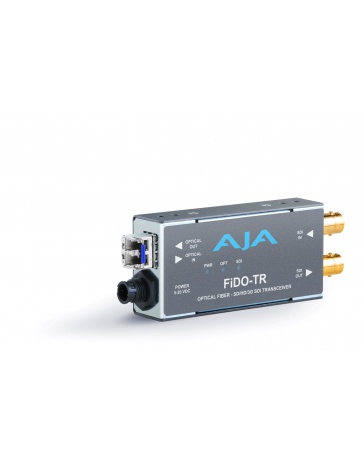 Maximize
FIDO-TR
SDI/Optical Fiber Converters
FiDO is a family of SDI/Optical Fiber converters. FiDO allows the transport of SDI, HD-SDI, and 3G SDI over distances up to 10km using standard single- mode fiber optic cable, with your choice of LC, ST, or SC connectors, depending on the converter model. FiDO converters meet all relevant SMPTE specifications and are rugged, versatile, and suitable for indoor or outdoor use.
Overview
With 9 models, FiDO offers unmatched flexibility and cost efficiency. FiDO dual channel models allow the conversion of 2 channels - perfect for 3D, dual- link SDI, or 2 completely independent SDI channels (for example, SD, HD, and 3G can be mixed in any combination). Also, FiDO converters offer electrical isolation useful for eliminating ground loop problems.
FiDO converters come in a compact, low-profile enclosure for use in tight spaces around and behind equipment racks, trucks and crowded facilities.
Features
Transport of SDI, HD-SDI, and 3G HD-SDI over single mode optical fiber
Auto-detection of video format
All SDI Ancillary data including embedded audio is passed
LC, ST OR SC fiber connectors
Simplex or Duplex models available
All inputs, either SDI or fiber, are equalized and re-clocked
ASI compatible
Useful for eliminating ground loop problems
5-20VDC power supply (included)
5 year warranty
Accessories
DWP-U-R1: Universal power supply (Note: As of Nov. 1, 2012 a DWP-U-R1 is included with the purchase of any AJA Mini-Converter)
Rack mount bracket
4 pin XLR power cable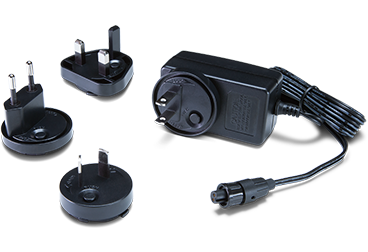 Universal Power Supply
All AJA Mini-Converters ship with a Universal Power Supply that includes international plug connections for use around the world.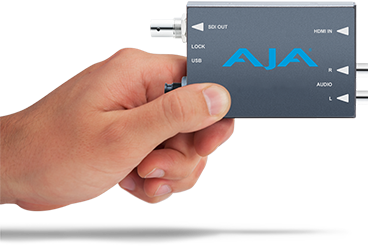 Compact and Portable
AJA Mini-Converters are small enough to fit behind a monitor, in the back of a rack or directly on a camera rig. A locking power connector can't accidentally pull loose and an optional P-TAP power cable allows for battery power in remote locations.
---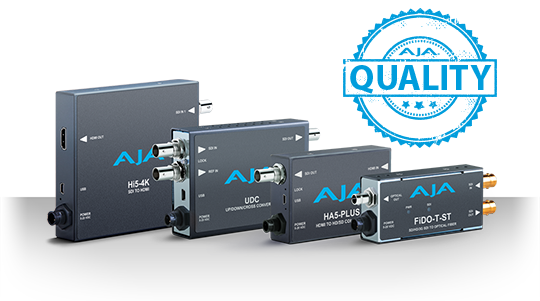 AJA Quality - Guaranteed
All AJA Mini-Converters are covered by a 5-year warranty and AJA's advanced replacement policy. If a replacement is necessary, AJA will ship a new unit immediately without the need to send the original unit back first, ensuring you are up and running again as quickly as possible.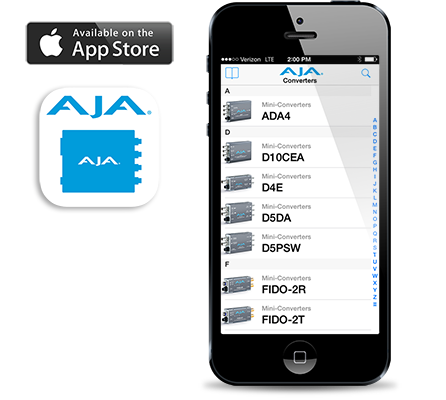 AJA Mini-Matrix
Information on the complete line of AJA Mini-Converters is now available as a mobile app on iOS. The Mini-Converter product line is extensive and this app helps you find the right converter for any situation, wherever you are.
Individual products have links back to the main AJA website for more details and you can email product information directly from the app. The free AJA Mini Matrix app for iPad and iPhone is available now in the Apple iTunes Store.
No customer reviews for the moment.
30 other products in the same category:
No Trouble Brussels

Phone:

+32 2 248 16 96

Mobile:

+32 478 24 20 04

Address:

Rue Artan, 120

1030 Bruxelles

Belgique

No Trouble Genappe

Address:

Rue Bruyère d'Elvigne, 6

1470 Genappe

Belgique
Blog categories
Search in Blog
Newsletter
Subscribe to our newsletter to receive exclusive offers and the latest news on our products and services.