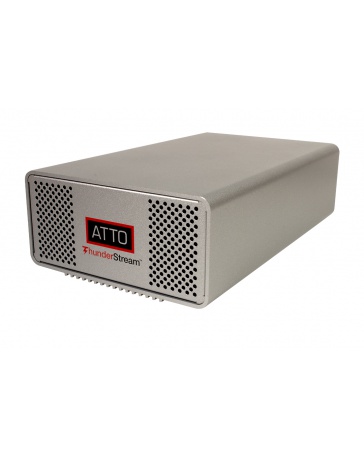 Maximize

Display all pictures
ThunderStream SC 4808D
20Gb/s Thunderbolt™ 2 (2-Port) to 6Gb/s SAS/SATA (8-Port) RAID Device
ATTO ThunderStream® Storage Controllers feature time-proven ATTO RAID technology and other proprietary technologies developed over the past 18 years to provide the highest performing shared storage solution in its class. ATTO ThunderStream® Storage Controllers integrate with disk drives to enable a small form factor, high performance RAID (0,1,5,6,10) array. In addition, SAS tape drives can easily be connected to Thunderbolt to provide access for backup software and LTFS tape applications.
US model: includes 110V power cord
EU model: includes CEE 7/7 (SHUKO) power cord and BS 1363 UK10 power cord
The ThunderStream® SC 4808D acts as an external Thunderbolt to SAS/SATA RAID adapter, connecting all-in-one systems and laptops to 6Gb/s SAS/SATA RAID storage devices.

The ThunderStream® features latency and disk management technologies which ensure optimal performance and minimal latency. ATTO's Advanced Data Streaming (ADS™) Technology manages latency by providing controlled acceleration for smooth data streaming. DriveAssure™ technology uses proprietary algorithms and user controls to prevent premature drive failures and slow downs. Combined, these technologies give users smooth, uninterrupted access to data with the highest available performance.
No customer reviews for the moment.
30 other products in the same category:
No Trouble Brussels

Phone:

+32 2 248 16 96

Mobile:

+32 478 24 20 04

Address:

Rue Artan, 120

1030 Bruxelles

Belgique

No Trouble Genappe

Address:

Rue Bruyère d'Elvigne, 6

1470 Genappe

Belgique
Blog categories
Search in Blog
Newsletter
Subscribe to our newsletter to receive exclusive offers and the latest news on our products and services.