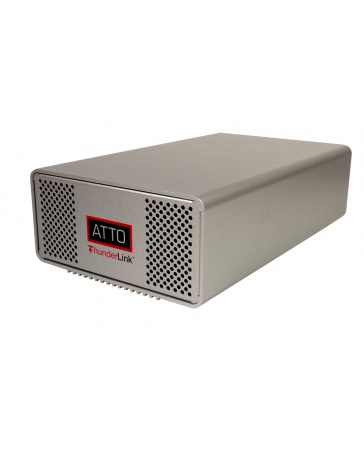 Maximize

Display all pictures
ThunderLink NS 3102
40Gb/s Thunderbolt™ 3 (2-port) to 10GbE (2-Port) ( includes SFPs )
The ATTO ThunderLink® NS 3102 acts as an external Thunderbolt 3 to dual 10GbE adapter, connecting Thunderbolt enabled systems (all-in-ones, workbooks, mobile workstations) to 10Gb/s Ethernet networks and storage devices. When faced with the challenge of architecting solutions that allow guaranteed delivery and easy deployment into your workflow ATTO ThunderLink®'s provide a purpose built solution. With 10Gb/s data transfer rates, Ethernet ThunderLink®s are the connectivity choice for bandwidth-intensive applications such as data back-up and restoration, clustered computing, IP content delivery, medical imaging, and video rendering. Now, the time tested combination of ATTO and 10GbE is being integrated with the latest in cutting edge high performance Thunderbolt 3 connectivity.
Email Thunderbolt3@attotech.com for more information
With a low profile form factor, and Thunderbolt 3 connectivity, ATTO's optical 10GbE ThunderLink® device provides the most flexible and scalable connectivity today. Growing adoption of 10 Gigabit Ethernet combined with increased bandwidth of Thunderbolt 3 delivers much-needed performance benefits to complete today's bandwidth intensive projects.
All ATTO Thunderbolt product utilize Advanced Data Streaming (ADS™) Technology which maximizes CPU processes to deliver smooth and reliable data transfers and the highest consistent performance.
Two SFP+LC optical modules included
No customer reviews for the moment.
30 other products in the same category:
No Trouble Brussels

Phone:

+32 2 248 16 96

Mobile:

+32 478 24 20 04

Address:

Rue Artan, 120

1030 Bruxelles

Belgique

No Trouble Genappe

Address:

Rue Bruyère d'Elvigne, 6

1470 Genappe

Belgique
Blog categories
Search in Blog
Newsletter
Subscribe to our newsletter to receive exclusive offers and the latest news on our products and services.