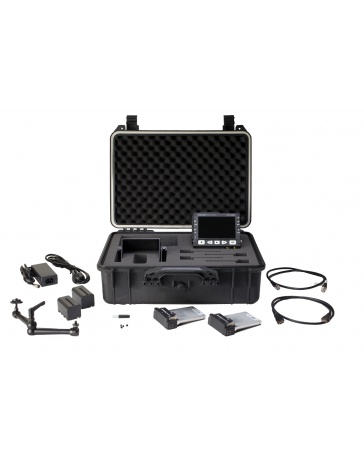 Maximize
Simplifying Production
The portable PIX 240i is an essential companion for any production environment. It simplifies any production and post-production environment bringing edit-ready Apple ProRes or Avid DNxHD recording to SD/HD-SDI or HDMI-equipped video cameras.
File-Based Recording
The PIX 240i records Quicktime files in either Apple ProRes or Avid DNxHD video formats. Files recorded in these intra-frame codecs are ready-for-editing directly from the recorder. For color-critical applications recording to Apple ProRes 4444 provides uncompressed alpha-channel transparency for superb chroma keying and grading performance.
Extensive Video I/O
The video input on the PIX 240i has extensive compatibility with a wide range of cameras. It's BNC input accepts 12-bit 3G SDI (4:4:4 RGB or YCbCr), HD-SDI, SDI. Its HDMI input accepts high-definition and standard-definition video.
With its 3G-SDI 4:4:4 input, recording to ProRes 4444 offers recordings that are perceptually indistinguishable from the original source material.
Frame Rate Converter and Scaler
The PIX 240i features a powerful hardware scaler and frame rate converter. Up, down, cross-conversion and pulldown removal give users the ability to record files in a customer-requested rate, even rates not supported by the camera. The PIX 240i also supports aspect ratio conversion, HD to SD and SD to HD.
Time Code Generator
The on-board high-accuracy Ambient time code generator makes the PIX 240i right at home on any production from simple single camera shoots, to complex multi-camera sync-sound productions. All common time code frame rates and modes are supported. Embedded time code over SDI and HDMI is also supported.
IPS Field Monitor
With its 5-inch, IPS display, the PIX 240i becomes an accurate field monitor for production cameras. The display's accurate color representation and excellent off-axis visibility assist in framing, exposure evaluation, and focus evaluation. It is complete with 12-step false color and two-level zebra, peaking, and 1:1 pixel viewing.
Defeatable detail overlayed on the picture includes audio metering, time code, file type, record status, and frame rate information. The display also doubles as a fast, simple menu interface.
Time code and record state display can be sent to the SDI and HDMI outputs.
Superb Audio Performance
With its deep expertise in production sound, Sound Devices included no-compromise audio performance into the PIX 240i. Its full-sized XLR audio inputs accept microphone or line level signals. Microphone-level inputs offer 48 V phantom power, input limiters, and sweepable high-pass filters. Inputs can also be set to accept AES3 digital audio, up to four channels.
Inputs offer selectable audio delay. Since video cameras often introduce several frames of delay because of internal processing, audio signals connected directly to the PIX 240i can be delayed up to 500 ms to accommodate that delay and provide perfect synchronization between video and audio signals.
Playback
The PIX 240i offers a wide range of playback features. Off-speed, forward, backward, freeze-frame, looping, and custom playlists give users extensive playback control. File markers can be set while in record or playback mode with the press of a button and loop playback modes allow continuous looping playback of entire files or between files markers. Playlists allow users to quickly organize multiple files for consecutive or loop playback.
File Storage and Transfer
PIX 220i and PIX 240i record and play back Quicktime files to either removable CompactFlash cards or removable 2.5-inch solid-state drives (recording media and PIX-CADDY 2 are optional accessories). Both CompactFlash and SSD media are formatted by PIX recorders as exFAT volumes that are directly mountable, readable, and writable in Mac OS and Windows.
Mechanical Construction
The PIX 240i is designed and built for the rigors of field production with a durable chassis made of light weight, molded, metalized-carbon-fiber. Its four 1/4-20 thread mounts on two different axis offer countless mounting options. All important connections on the PIX 240i use full-sized, locking connectors, including its BNC video and XLR audio connections. Data drives mount to the available PIX-CADDY2 for a secure, hot-swappable, locking data connection.
Powering
The PIX 240i is powered from removable Sony-compatible (L-mount) lithium-ion camcorder batteries or external 10-18 VDC power. Battery mounts are connected in parallel so batteries can be hot-swapped during operation, with no loss of power. When external power is removed while a removable battery is mounted, the PIX 240i seamlessly transfers to battery power. Battery source and voltage is shown on the on-screen display.
Controls
The side panel rotary knob makes menu navigation fast and simple. Simple controls and a straight-forward plain-language menu makes setups easy for both new and experienced users. Four large, illuminated, tactile record, stop, play, rew, and fast-forward controls are easy to access with gloved hands. Screen and button brightness are adjustable.
No customer reviews for the moment.
30 other products in the same category:
No Trouble Brussels

Phone:

+32 2 248 16 96

Mobile:

+32 478 24 20 04

Address:

Rue Artan, 120

1030 Bruxelles

Belgique

No Trouble Genappe

Address:

Rue Bruyère d'Elvigne, 6

1470 Genappe

Belgique
Blog categories
Search in Blog
Newsletter
Subscribe to our newsletter to receive exclusive offers and the latest news on our products and services.