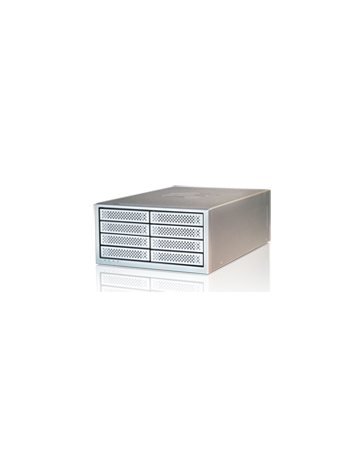 Maximize
B08S3-PS
8−bay Compact RAID Storage
2.5″ SSD or HDD
Support Thunderbolt 2 with Converter
8−bay Compact RAID Storage
2.5″ SSD or HDD
Support Thunderbolt 2 with Converter
Up to 1975MB/s speeds with 8 SSDs in RAID 0 for 4K video editing
PCIe switch ready for SAN
8 hot-swappable 2.5″ SSD/HDDs
Direct Connect to the extremely fast PCI Express Gen 3 bus
Hardware RAID to provide the ultimate sustained performance
FORM FACTOR
When we designed the B08S3 we wanted to bring a product to market that no one else is making. The B08S3's eight bay design gives the device not only extra storage space, but also increased performance. Traditional 8-bay RAID storage cannot compete with the B08S3′s transfer speeds and extra 8TB of storage capacity.
Direct Connection
PCI Express Gen 3
Low overhead, low latency data transfers, both host-directed and peer-to-peer transfers. The B08S3-PS features a direct connection to the PCI Express bus, utilizing the fast PCIe infrastructure to connect directly to the host computer. This direct link eliminates latency introduced by the conversion of other interfaces to PCI Express, and provides superior bandwidth, availability and deployment flexibility as opposed to earlier-generation iSCSI and Fibre Channel technology.
Thunderbolt 2
Speeds for the 4K Era
With PCIe to Thunderbolt 2 Converter(C1M), the B08S3-PS achieves sustained speeds of up to1349MB/s that turbocharge 4K workflows, file transfers, or backups.
The most reliable data streaming
Equalization and Disk Lag Proof Technology optimizes the best transfer size and timing between the RAID controller cache and the host machine. This eliminates performance drops and maximizes the sustained data rate. Data transfer performance is smooth and reliable. it also helps to maintain a continuously smooth transfer rate over the whole capacity of the RAID. This technology is ideal for video editors who need sustained playback, and can't risk dropping frames.
SSD OR HDD (SATA/SAS)
This external RAID storage solution features the ability to accept 2.5″ SSD/SAS/SATA HDDs.
2.5″ SATA/SAS HDDs give users higher capacities, whereas 2.5″ SSDs give users faster performance.
No customer reviews for the moment.
5 other products in the same category:
No Trouble Brussels

Phone:

+32 2 248 16 96

Mobile:

+32 478 24 20 04

Address:

Rue Artan, 120

1030 Bruxelles

Belgique

No Trouble Genappe

Address:

Rue Bruyère d'Elvigne, 6

1470 Genappe

Belgique
Blog categories
Search in Blog
Newsletter
Subscribe to our newsletter to receive exclusive offers and the latest news on our products and services.