Maximize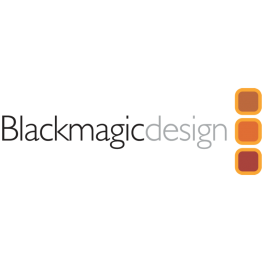 Display all pictures
Smart Videohub CleanSwitch 12x12
Glitch free clean live switching and resynchronization
Smart Videohub CleanSwitch 12x12
Glitch free clean live switching and resynchronization

When you need to cleanly switch between video sources to monitors or directly to air, you need timed or genlocked signals. If you cannot guarantee perfectly timed source signals but you still need to clean switch then Smart Videohub CleanSwitch 12x12 is the special model of Videohub that features resynchronization on all inputs so you get perfect clean feeds every time! Smart Videohub CleanSwitch 12x12 has all of the same great features of Smart Videohub 12x12 plus includes full resynchronization on every input so the router automatically re times all inputs to ensure clean, glitch free switching between router cross points. Sources of different resolutions and the same frame rate can even be output directly to air for smooth, cuts only production. Just like all Smart Videohub models, you can control Smart Videohub CleanSwitch directly from the front panel or remotely over ethernet using the Videohub Control Panel software on a Mac or PC.
Unsychronised SourcesRe-Sync and Clean Switch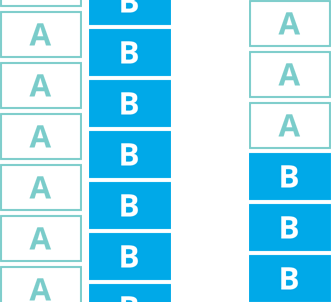 All Video Formats Simultaneously
Different formats, frame rates and resolutions simultaneously!
Smart Video includes multi format technology so you can simultaneously connect SD, HD and Ultra HD equipment all on the same router at the same time. SDI products from Blackmagic Design will automatically detect the SDI video format when it changes and instantly switch standards. This means you can seamlessly work in NTSC and PAL SD, 720 and 1080 HD and even 2160 Ultra HD at any frame rate, all at the same time on the single router!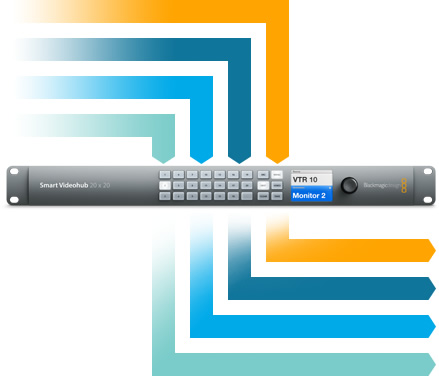 Multiple Video Format Destinations
Multiple Video Format Sources
Ultra HD Signal In
1080p Signal In
720p Signal In
NTSC Signal In
Ultra HD Signal Out
1080p Signal Out
720p Signal Out
NTSC Signal Out
Ultra HD Quality, HD Compatibility!
The broadcast industry's video standard of the future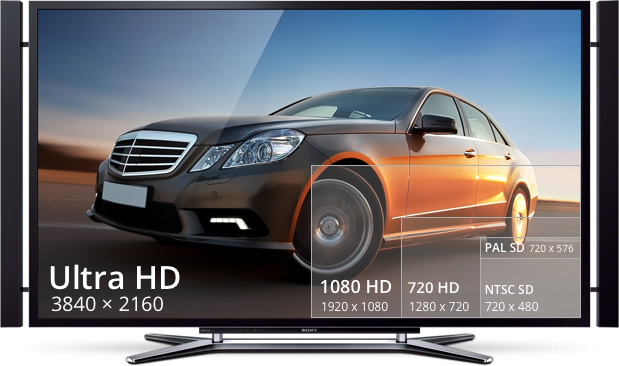 Get amazing images that are so detailed it's like being there! With Ultra HD you get 4 times the resolution of regular 1080 HD video for a massive 3840 x 2160 frame size. The new Smart Videohub easily handles the enormous data rates of full resolution Ultra HD video as well as SD and HD video. Ultra HD is the broadcast standard of the future and production of 4K content is accelerating! Smart Videohub's advanced 6G-SDI multi format connections are compatible with your existing SD-SDI and HD-SDI equipment as well as the latest Ultra HD gear.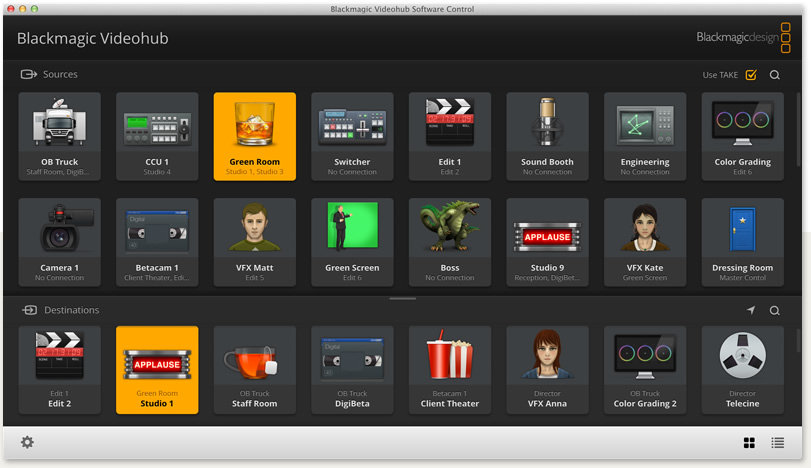 External Software Control
Control routing via network on Mac and Windows!

If you want to control your Smart Videohub anywhere then the included free Videohub software control for Mac and Windows is the perfect solution. Videohub control software has a great looking interface with amazing icon buttons. When used with new touchscreen PCs, you get a fantastic large screen XY control panel! You can even download the new software control panel for Apple iPad® that lets you use it as a fantastic, low cost touch screen router panel, it's free on the App Store!
No customer reviews for the moment.
13 other products in the same category:
No Trouble Brussels

Address:

Rue Artan, 120

1030 Bruxelles

Belgique

Phone:

+32 2 248 16 96

No Trouble Genappe

Address:

Rue Bruyère d'Elvigne, 6

1470 Genappe

Belgique
Our strengths
20 years experience

Quick delivery

Tailor-made services

Secure payment