NAB 2016 blackagic



Hi,

It's NAB 2016 time and we have some very exciting new products this year and I wanted to update you on all the details! There are a lot of new items this year, and so I have put together a small list of the new products and new updates below for you.

Blackmagic Duplicator 4K
Blackmagic URSA Studio Viewfinder
URSA Mini Studio Camera Update
Blackmagic 3G-SDI Arduino Shield
New URSA Mini Operating System
DaVinci Resolve 12.5 Public Beta
Blackmagic Video Assist 4K
Blackmagic MultiView 4
Blackmagic Micro Converters
HDMI Instant Lock
33 Point 3D LUT Processor
UltraStudio 4K Extreme 3
DeckLink Duo 2
ATEM Switcher Update for HyperDeck Control
Cintel Key-Code and Audio Reader
Blackmagic Design IP Video Strategy

Some of the most exciting products this year include the Blackmagic Duplicator 4K and some major updates to our new URSA Mini cameras. We also have a bigger model of our popular Video Assist as well as converter updates, new DaVinci Resolve and even an amazing Arduino shield for broadcast engineers who want to design their own CCU!

Each one of these new products and updates has a lot of features, and so this year we have made a video covering all of these new products and technologies in much greater detail. Plus in each product page on the Blackmagic Design website we have a more detailed video with information on the new products features and how they work. Please check them out!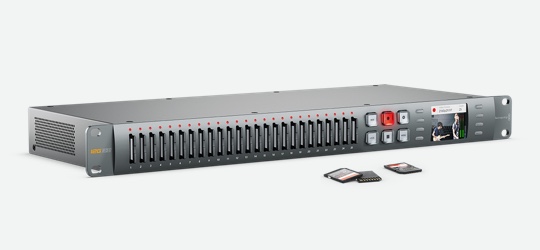 Blackmagic Duplicator 4K

The new Blackmagic Duplicator 4K was designed to solve the biggest problem we see the television production industry faces today. This problem is how do we get Ultra HD content to customers, and let customers take advantage of the big screen Ultra HD televisions they have been buying. How can we do that, right now, today?

The Blackmagic Duplicator 4K solves this problem by letting you record in real time, high quality H.265 onto 25 separate SD cards that you can sell to customers.

Real time recording means that the Blackmagic Duplicator 4K solves another big problem, and that's how to pay for your production work. The Blackmagic Duplicator 4K solves this because you can sell the content the moment the event has finished, and when the customers are most excited to buy it.

The Blackmagic Duplicator 4K features 25 SD card slots along the front panel with record controls located on the right hand side. There is also an LCD for monitoring input video and audio levels. On the back panel there's a 12G-SDI input, with loop thru output, plus power and remote connections. The remote out lets you daisy chain duplicators so you can keep adding extra capacity and start them all recording at the same time.

The Blackmagic Duplicator 4K is packed with powerful features such as its H.265 hardware encoder. Ultra HD has 4 times as many pixels than HD, so if you try and use the older H.264 compression format, the files would become 4 times as large and the storage cost would be much more. To deal with the higher resolutions of Ultra HD video, the new H.265 compression was developed specifically for Ultra HD distribution.

What this means is that we can save Ultra HD, even at high frame rates, into files that are not much bigger than HD files in H.264. The SDI connections on the Blackmagic Duplicator 4K are the latest 12G-SDI so the duplicator supports recording into all SD, HD or Ultra HD formats and even high frame rate Ultra HD up to 2160p60. But to help with compatibility we are also working on adding a H.264 codec into the duplicator for HD and that will be available later in the year as a software update.

Another powerful feature is the append record feature lets you start recording onto the end of the previous recording so customers get a single file that's easy to watch. Append record is vital to make sure you don't pass customers a mess of separate recordings. Instead they get one nice single media file.

The SD cards are very thin so each duplicator can fit more of them across the front panel, plus you can make them look professional to customers by presenting them in a printed wallet. SD cards are very compatible as virtually all modern computers have SD card storage slots built in. Any cards you don't sell after an event, can be formatted in the duplicator so they are clear for the next job you do.

We think the Blackmagic Duplicator 4K is the best way to help you make money from your live production work. It's very exciting and we cannot wait to see what kind of events the new Blackmagic Duplicator 4K can be used for.

The Blackmagic Duplicator 4K is available today for $1,995.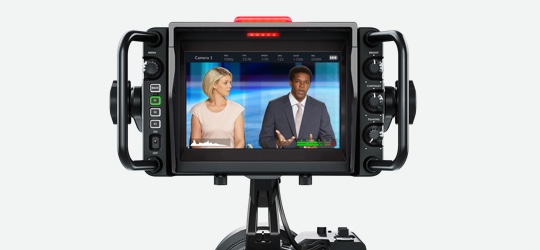 Blackmagic URSA Studio Viewfinder

Now for first of our new camera news and this NAB we have some exciting updates for our URSA Mini digital film camera for live production. This includes a new professional studio viewfinder as well as a software update for URSA Mini to add all the features required for studio camera use.

Ever since we originally built our popular Blackmagic Studio Camera, customers wanted us to add a different B4 lens mount and B4 lens control connector. However we thought while this is a good idea, those high end customers would want more viewfinder controls and to be able to change the angle of the viewfinder. So we realized that the Blackmagic Studio Camera, while a great studio camera, was not designed to do what these very high end broadcast customers wanted.

The Blackmagic Studio Viewfinder completely transforms the URSA Mini into a professional studio camera. It looks amazing and it simply plugs into where the normal viewfinder would connect on the front of the camera. The ergonomics of the viewfinder were designed for maximum comfort which is vital when working on shoots where the camera team can be standing for hours at a time.

When we designed this viewfinder the number 1 feature we worked on was to make the best articulated mounting we had seen on any viewfinder at any cost. These joints have an amazing range of tension adjustment so you can set them to the perfect resistance you need. So what this means is you can pan and tilt the viewfinder to the position you need, which is vital when the camera is high up and you need to tilt it down.

The Blackmagic URSA Studio Viewfinder has a modern design with a nice large tally indicator so the talent can see clearly which camera is on air. There is a customizable camera number that can be installed over the tally indicator so the camera number is clearly visible. The viewfinder is on a quick release mount so you can remove it if you need the camera to go off tripod quickly and it makes setup very fast!

There are knobs for controlling brightness and contrast and also a knob for focus peaking so you can set the level you need. There's a menu dial for navigating viewfinder settings, plus 3 assignable function buttons. There is a sun shield included and a tally indicator under the sun shield as well as above the sun shield for the camera operator.

When you use it with URSA Mini, the camera will actually send camera information via the SDI connection to the viewfinder for on screen displays. This lets you change the on screen displays from the viewfinder itself so you don't need to go into the camera menus to do it.

The Blackmagic URSA Studio Viewfinder will be available in Q3 from Blackmagic Design resellers worldwide.





URSA Mini Studio Camera Update

Next I will describe the new software update that turns URSA Mini into a fantastic high end studio camera because it adds all the features broadcasters loved about our studio cameras including built in color corrector, lens control, talkback, tally and the ability to change settings all via external SDI. Now this is all available in URSA Mini so it can be used as a studio camera for live production.

This update also adds 1080 HD interlaced video and a video lookup table on the SDI output, so you can use the camera with any broadcast switcher. Most of the studio camera features lie dormant until you plug the camera's SDI program input into a switcher that supports the SDI control protocol. Our ATEM switchers, even the $995 ATEM Television Studio model, all output full SDI camera control so using these powerful features is easy!

The headphone connection will now become your talkback headset connection and you will be able to hear the director. The viewfinder record indicator will now become a tally indicator and when your camera is on air the viewfinder light will illuminate. Any settings the switcher operator wants to change can be done remotely so camera operator so can focus on the live action!

Because URSA Mini is a digital film camera with a large Super 35mm sensor, the images look like no other studio camera available. You can even use digital film PL mount lenses or B4 broadcast HD lenses by adding our B4 lens mount to the PL model and plugging the lens into the control connector. If you still want that same quality but are on a lower budget you can use the URSA Mini EF and get the same external lens control.

This update includes new color science for both URSA Mini models so the 4K sensor models now have a similar look to the 4.6K sensor models. This means the two different sensors are now a much better match, which is good if you use both cameras on the same shoot, or a live production situation. DaVinci Resolve will read the metadata from the URSA Mini 4K automatically and select the correct color science.

The new Camera Update 3.2 that adds the studio camera features, SDI camera control, and the new color science for URSA Mini 4K models is available today. It can be downloaded now from the support page on the Blackmagic Design website.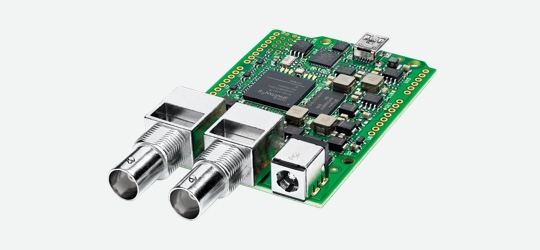 Blackmagic 3G-SDI Arduino Shield

Next we have the new Blackmagic 3G-SDI Arduino Shield which lets you use an Arduino to customize your own studio camera control solutions!

Arduino is the popular open-source electronics prototyping platform used by hardware designers, hobbyists, and anyone interested in creating projects. Arduino is designed to be as flexible as possible and very low cost and in many ways is similar to Raspberry Pi, however it's simpler and more designed for hardware developers while Raspberry Pi is more targeted to software engineers.

Using the Blackmagic 3G-SDI Arduino Shield is easy, as all you need to do is get an Arduino, download the IDE from arduino.cc and then load the sample code. The sample code shows you how the Arduino communicates to the Blackmagic 3G-SDI Arduino Shield and the shield sends the commands to the camera via the SDI connection.

Writing the code to send the commands to the camera is also very easy. Arduino programs are called Sketches and they are very easy to write. The commands for camera control are documented in the ATEM manual. The Blackmagic 3G-SDI Arduino Shield only uses the I2C bus so you could use it with other micro controllers such as a Raspberry Pi. All the commands in the instruction manual for the studio cameras are supported and you can use the manual as a reference.

The Blackmagic 3G-SDI Arduino Shield, when combined with the new URSA Mini viewfinder and studio software update is an incredibly powerful combination. It also works with all Blackmagic Studio cameras. You can control the lens, color corrector, detail, and all camera settings. You could even remove the electronics of an old obsolete CCU and replace them with a new Arduino design to transform it into a modern CCU!

The Blackmagic 3G-SDI Arduino Shield will be shipping in the next few months for $95.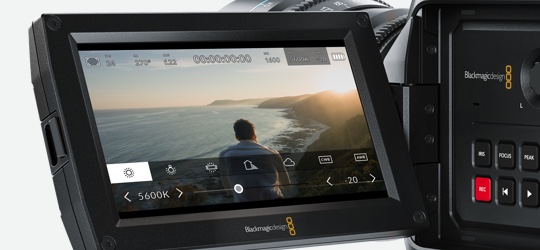 New URSA Mini Operating System

Next we are going to be demonstrating a whole new operating system and user interface for our URSA Mini cameras. There is a lot of extra power in the URSA Mini design that we have only started to unlock and until now this power has been hidden.

The most visible part of the new URSA Mini operating system is the user interface of the camera and it's now much faster to use and has also been totally redesigned. Now touching any setting on the LCD lets you directly adjust that setting without going into menus.

A good example is lens control. Now you can just select iris and step though the F stops, or just slide the iris open and closed with your finger on the LCD. If you want to adjust audio level then just touch the audio meters and now you can change levels and if you rotate the audio knob, the adjustments are also displayed automatically.

This new operating system adds a lot of intelligence to the camera as well. A good example of this is shutter angles. Setting shutter angles to eliminate flicker from lighting can be tricky, but now settings are recommended to eliminate flicker from lighting. You can still set any angle you want, but there are also recommendations that calculated for you. It recommends angles when you over or under crank the frame rates.

Metadata is also greatly improved and now the metadata page is better laid out with predictions of what you might want. The camera settings are much better laid out and much easier to press, plus there are many more options available than before. There is a new media status page so you can see very clearly how much space you have on your memory cards. Now all the camera settings can also be saved and recalled.

Of course there will be some exciting new capabilities when we release this update. The biggest new change is we are introducing 3D lookup tables for the internal LCD and the SDI video output. What this means is you will be able to load custom color looks and you can store up to 6 3D LUTs in the cameras internal flash memory. 3D LUT's are loaded from the CFast media card in the camera, and URSA Mini will read LUT files from most software including DaVinci Resolve's 3D LUT format.

This new software update will be on display at NAB so please come by so you can try it for yourself. This new software will be available toward mid year as a free update for all models of URSA Mini cameras.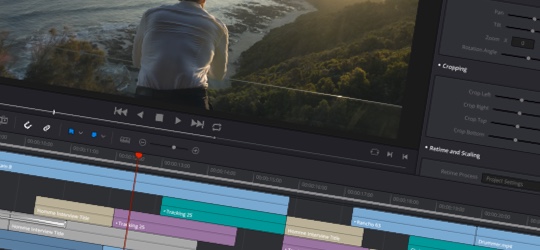 DaVinci Resolve 12.5

We also have a new update for DaVinci Resolve this year and even though originally we planned on this being an update 100% focused on lots of very tiny refinements, the engineering team has actually added a lot of big features as well.

There have been significant interactivity improvements to the interface and you can see it, and even feel it, throughout DaVinci Resolve. There is a new variable speed curve integrated with retime controls and this lets you open the retime controls and retime curve editor for the clip in the edit timeline.

In DaVinci Resolve 12.5 there is now metadata on the edit page. All you need to do is select the new metadata icon at the top next to the inspector. Now you can see the metadata a lot more compositing modes as well as lots of new effects including more dissolves, more wipes and lots of other transitions.

We have added Fusion Connect and we can now send a clip or composition of clips direct to Fusion. Once you have rendered your composition you can then return to the edit, and the clip you rendered will automatically be in the timeline. It's very fast. With Fusion now on both Mac OS X and Windows we think this is a very powerful combination and will really enhance workflows.

We have included improvements to Multicam and you can right click on media pool clips to make a new Multicam clip. There is also new options for syncing common angles using camera metadata. You can also name angles sequentially, based on file name or camera metadata. You can also edit titles in place now and all you need to do select the clip and then you can drag to rotate, double click the text to edit and more.

A very exciting feature for colorists is the new ResolveFX tools on color page. To use them, simply open the OpenFX window and drag an effect clip like Glow, Light-ray, Vortex or Mirrors onto a node and make any adjustments you need.

Another big feature in DaVinci Resolve 12.5 Studio is significantly improved noise reduction. DaVinci Resolve 12.5 Studio also includes a new automatic lens correction and you can fix lens distortion simply by clicking analyze to auto correct it. You can then further adjust the correction in the inspector for finer control but you can also use it as a lens distortion effect which can be very useful.

One of the other big features we have added into DaVinci Resolve 12.5 is easy presets for common output formats. This is very useful if you are outputting to destinations such as YouTube or Vimeo as you can just select the output and start mastering.

One of the other big features in DaVinci Resolve is new high dynamic range or HDR grading tools built in. This really simplifies grading HDR work and includes High Dynamic range cache, node with HDR controls, color transforms and HDR scopes scale for HDR grading. There is also a new update available for our UltraStudio 4K Extreme and DeckLink 4K Extreme 12G that adds HDR on HDMI out so you can get a full end to end solution.

One of the biggest problems we found when editing dialog is cutting against the audio track when you cannot see it. With DaVinci Resolve 12.5 we have added an audio waveform overlay into the source viewer. Another problem when cutting against dialog is sometimes you want to keep your edit points away from the dialog by a specific amount. We have added a new playhead shadow feature and you can select this in the project settings for how many frames width you want.

There are so many more features in DaVinci Resolve 12.5 and we have only described just a few of them here. Please check out the demo video on the DaVinci Resolve web site as it covers some of the new features in much greater detail.

The good news is DaVinci Resolve 12.5 is available today as a public beta* so you can download it now!

*When the software has completed its public beta testing, we will be releasing this update free of charge for all DaVinci Resolve users. We have lots of ideas for the future, so please remember to upgrade to the paid version if you're doing professional work as that income pays for faster development!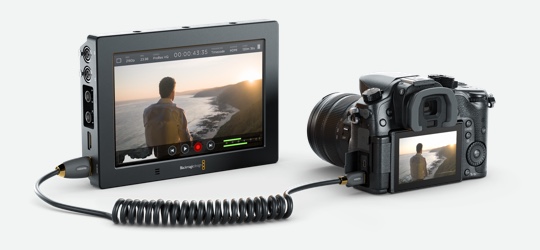 Blackmagic Video Assist 4K

The next product we have at the show this year is the new Video Assist 4K. This new model Video Assist 4K lets you add a bright 7 inch monitor and broadcast quality recorder to any SDI or HDMI camera.

By adding a Video Assist to a DLSR camera you can get a nice large screen that ensures you get perfect focus every time. Video Assist has built in focus aids such as focus peaking and focus zoom. You can also use the histogram to help set exposure. Because Video Assist has built in recorders, you can bypass the low quality video files or even tape based recorders in many cameras.

The Video Assist uses high quality ProRes and DNx recording, so you get great quality and full compatibility with all editing software. You also get much longer recording times because Video Assist 4K features 2 SD card slots, so you can change cards while recording.

The new Blackmagic Video Assist 4K features 2 analog audio inputs with phantom power that are connected to an incredibly low noise HD audio circuit. This means you can connect high end microphones and mixers via the balanced mini XLR connectors, and completely bypass the camera audio for amazing results. It's like Blackmagic Video Assist 4K has a professional audio recorder built in, and with over 128db of audio noise floor, audio engineers will love it!

The design on the inside is just as professional with the latest technology 6G-SDI in and out on full size connectors as well as HDMI 2.0 in and out. There is also a LANC connector for extra control options in addition to the SDI and HDMI record triggers. Also included is an upgradable hardware codec with a selection between ProRes Proxy, ProRes LT, ProRes 422, and ProRes 422 HQ. A 3.5 mm audio output is included so you can plug in headphones for audio monitoring and the Video Assist 4K also includes a speaker for playback.

When it comes to the built in recorder, Video Assist 4K includes support for the latest technology UHS-2 cards, so you get fast speeds for recording to Ultra HD. UHS-2 cards are extremely fast but you can also read them in conventional SD card slots on computers, as they are fully backwards compatible.

The new Blackmagic Video Assist 4K is available today for $895.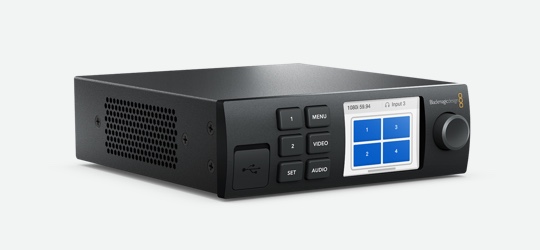 Blackmagic MultiView 4

Next we have Blackmagic MultiView 4, which is an new and extremely powerful multi view monitoring converter. Blackmagic MultiView 4 allows you to eliminate the complexity of multiple monitors by using a single monitor to view 4 SDI video feeds simultaneously.

Each input view is totally independent of the others so each view can have a completely different video format and frame rate. Blackmagic MultiView is the first multi view to support Ultra HD, so this means you can use an Ultra HD monitor and get full resolution 1080 HD on each view. Imagine using a big screen television to get incredibly large multi view displays with full resolution on each view!

A great advantage of the Blackmagic MultiView 4 is that its the same physical size as our Teranex Mini 12G-SDI converters. What this means is you can use it on a desktop with the included rubber feet, or use a Teranex Mini Rack Shelf to install it in an equipment rack. The Blackmagic MultiView 4 also supports adding the Teranex Mini Smart Panel if you want to change settings using easy to use menus.

With re-sync on each input, each view is the same as an independent video monitor, and can be any video standard completely independent of the other inputs. That means you can connect any combination of NTSC, PAL, 720p, 1080i, 1080p up to 1080p60, and 2160p up to 2160p30 all at once.

The new Blackmagic MultiView 4 is available today $495.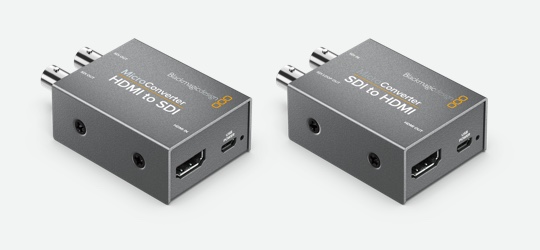 Micro Converters

This year we also have some new HDMI converters that offer incredible price and performance. The new Blackmagic Micro Converters come in two models, SDI to HDMI and HDMI to SDI. They are extremely tiny converters and are not much bigger than the cables that connect to them!

What's also exciting is the power connections to the converters use the same USB connector found on smart phones, so we can power them from a TV or computer. We include a full power supply with all the international AC plug adapters but you can really use all kinds of power supplies or even USB battery packs.

These new Micro Converters support 3G-SDI so they support SD and HD video formats up to 1080p60 and are full 10 bit quality. 2 channels of embedded audio is also supported in both SDI and HDMI so a single SDI cable will handle both video and audio.

We think these converters are a great solution when you want to add HDMI devices into SDI systems, but want to keep costs low or for when space is tight. With Micro Converters you can easily add them wherever you need!

The new Micro Converter SDI to HDMI and the Micro Converter HDMI to SDI are available today for $85 each and this price includes a 110-240V power supply.