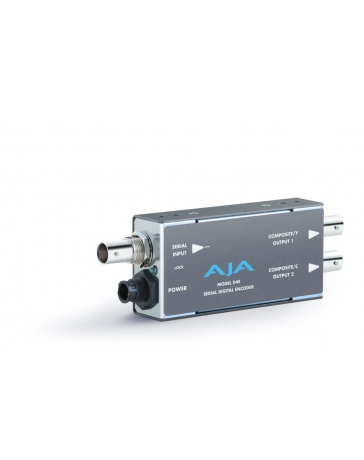 Maximize
D4E
Serial to NTSC/PAL Encoder
The D4E SDI Encoder provides the lowest cost all-digital conversion of SDI to analog NTSC or PAL. The D4E is useful for monitoring, level and phase checking, dubbing etc. The D4E automatically adapts to NTSC or PAL video standards and outputs analog NTSC (525 line inputs) or PAL (625 line inputs). Pedestal and narrow/wide H/V blanking are user configurable via dip-switches. The D4E encodes the full dynamic range of input video. Levels below black and above white are not clipped.
Features
Lowest Cost SDI to NTSC/PAL Available
1 SDI Input, 2 Composite/YC Analog Outputs
Automatic NTSC/PAL Selection
Built-In Test Pattern
Ultra Miniature Size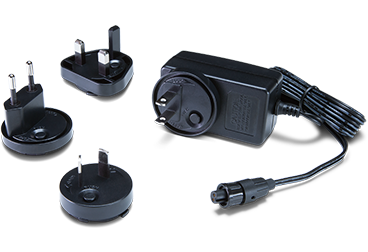 Universal Power Supply
All AJA Mini-Converters ship with a Universal Power Supply that includes international plug connections for use around the world.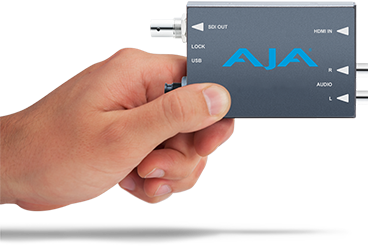 Compact and Portable
AJA Mini-Converters are small enough to fit behind a monitor, in the back of a rack or directly on a camera rig. A locking power connector can't accidentally pull loose and an optional P-TAP power cable allows for battery power in remote locations.
---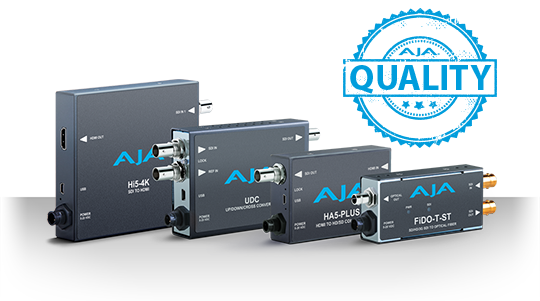 AJA Quality - Guaranteed
All AJA Mini-Converters are covered by a 5-year warranty and AJA's advanced replacement policy. If a replacement is necessary, AJA will ship a new unit immediately without the need to send the original unit back first, ensuring you are up and running again as quickly as possible.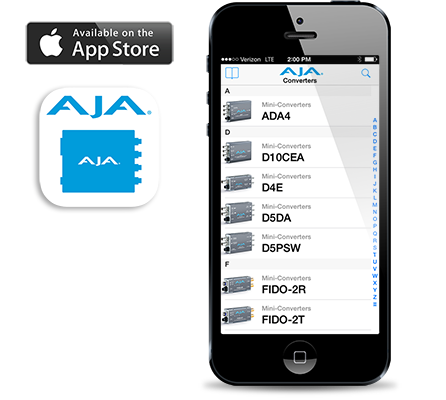 AJA Mini-Matrix
Information on the complete line of AJA Mini-Converters is now available as a mobile app on iOS. The Mini-Converter product line is extensive and this app helps you find the right converter for any situation, wherever you are.
Individual products have links back to the main AJA website for more details and you can email product information directly from the app. The free AJA Mini Matrix app for iPad and iPhone is available now in the Apple iTunes Store.
No customer reviews for the moment.
30 other products in the same category:
No Trouble Brussels

Phone:

+32 2 248 16 96

Mobile:

+32 478 24 20 04

Address:

Rue Artan, 120

1030 Bruxelles

Belgique

No Trouble Genappe

Address:

Rue Bruyère d'Elvigne, 6

1470 Genappe

Belgique
Blog categories
Search in Blog
Newsletter
Subscribe to our newsletter to receive exclusive offers and the latest news on our products and services.