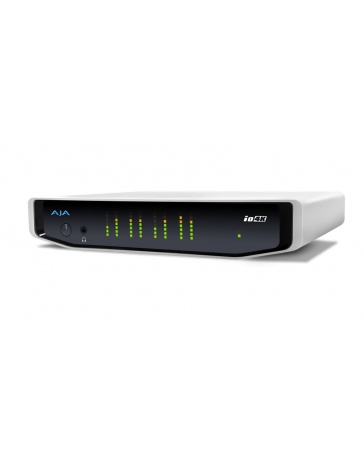 Maximize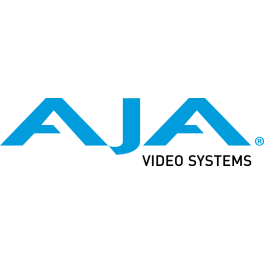 Io 4K
4K and HD I/O for Thunderbolt™ 2
Io 4K is the next evolution of capture and output hardware offering a full set of professional video and audio connectivity with support for the latest 4K and UltraHD devices and High Frame Rate workflows. The power of Thunderbolt 2 enables Io 4K to handle a wide range of formats from SD to HD, UHD and full 4K over both SDI and HDMI and support 4K frame rates up to 50p/60p.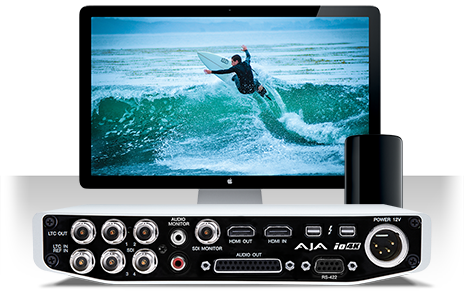 Professional connectivity
Io 4K has the connectivity required for today's variety of productions. With full-sized BNC connectors for 4K input and output as well as HDMI in and out, Io 4K can handle professional 4 x SDI 4K signals as well as capturing and outputting 4K over HDMI for use with more affordable 4K equipment.
Futureproof
With more affordable high-resolution cameras available, many productions are opting to shoot at a higher resolution even if final delivery is still in SD or HD. This offers the flexibility to re-master at higher resolutions in the future.
Io 4K can support your current SD and HD workflows and provides a path to move to higher resolution productions and also higher frame rate support whenever the need arises. The realtime downconverter also means you can work at higher resolutions and easily create lower resolution deliverables without the need to recapture or re-edit. All at a size that's small enough to easily take on-set or in the field.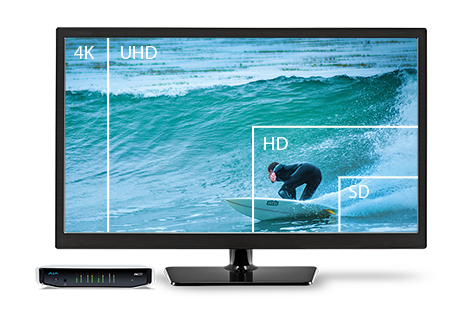 Monitor 4K in HD
When working at 4K resolutions, Io 4K outputs a high-quality HD-SDI down-converted signal on a dedicated BNC connector. This HD signal can be used to output 4K projects directly to HD recorders for broadcast and for easy viewing of 4K images on HD monitors during post-production.
Powerful
Thunderbolt 2 technology provides an incredible amount of bandwidth on a single Thunderbolt cable. Io 4K capitalizes on this increased capacity to allow up to 4K signals at frame rates up to 50p/60p to be captured and output.
With dual Thunderbolt 2 ports, Io 4K can daisy chain additional devices together such as high-resolution displays and high-capacity storage for a complete, portable solution that's powerful enough to meet the demands of professional production.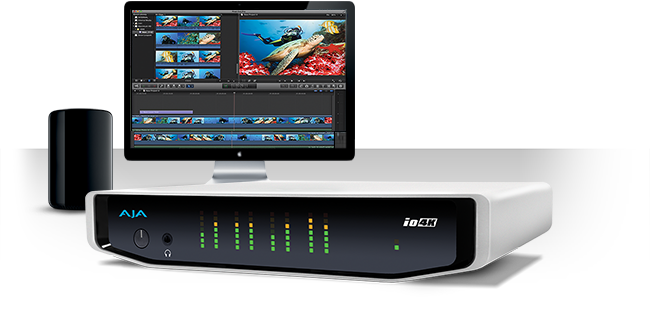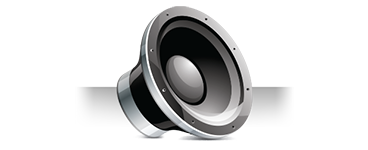 Integrated Audio
Embedded 16-channel SDI and 8-channel HDMI audio are supported as well as analog audio outputs via a standard DB-25 connection. Stereo monitoring is also possible with 2 x RCA outputs and a front panel mini-TRS headphone jack.
Sync up
Io 4K can be locked to an external reference for integration into larger productions, or feed LTC in and out to ensure footage captured with Io 4K has the proper timecode.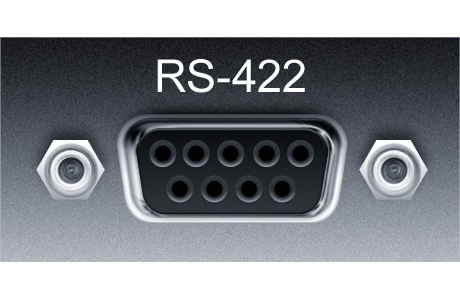 Machine control
An RS-422 port allows control of tape decks for frame-accurate captures and layoffs.
---
Extensive software support
AJA hardware is supported by an extensive list of professional software for editing, visual effects, graphics and more allowing the same AJA device to be used by many different applications on the same system. In addition, AJA provides several free applications that enable you to utilize the power of your AJA hardware even without having to run a particular software package. This allows you to create unique workflows without tying up valuable resources unnecessarily.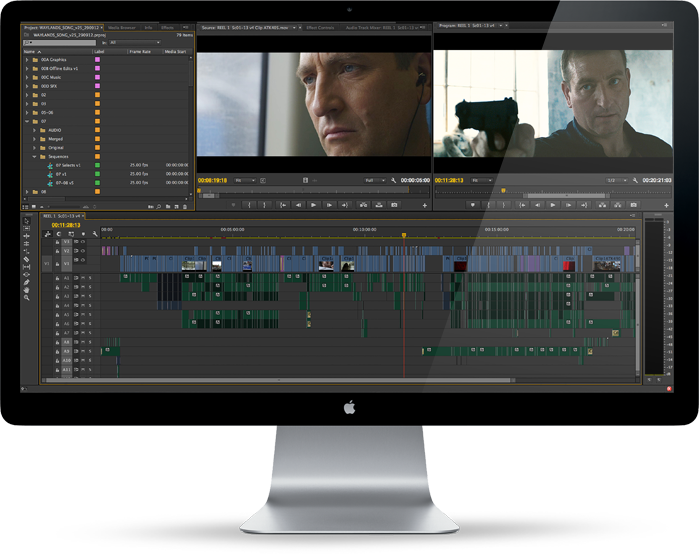 Features
4 x bi-directional 3G-SDI
4K/UHD HDMI I/O
Simultaneous SDI and HDMI outputs
Real time 4K to HD downconversion for HD-SDI and HDMI monitoring
10-bit high-quality 4:2:2, 4:4:4 and High Frame Rate workflow support
Two Thunderbolt™ 2 ports
Use with any Thunderbolt 2 system for up to 4K at 10-bit quality and up to 50p/60p
Backwards compatible with existing Thunderbolt hosts
16-channel embedded audio on SDI
8-channel embedded audio on HDMI
DB-25 analog audio output connector
XLR 12V power for battery or AC use
RS-422 VTR control, Reference, LTC Input
Headphone jack and level control for mobile environments
No customer reviews for the moment.
29 other products in the same category:
No Trouble Brussels

Address:

Rue Artan, 120

1030 Bruxelles

Belgique

Phone:

+32 2 248 16 96

No Trouble Genappe

Address:

Rue Bruyère d'Elvigne, 6

1470 Genappe

Belgique
Our strengths
20 years experience

Quick delivery

Tailor-made services

Secure payment