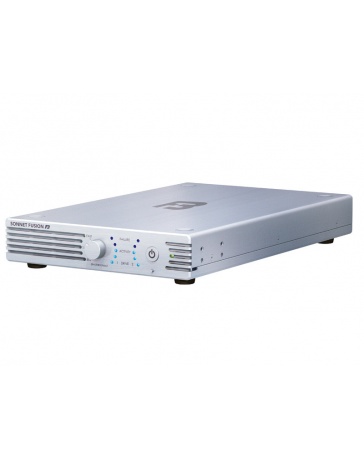 Maximize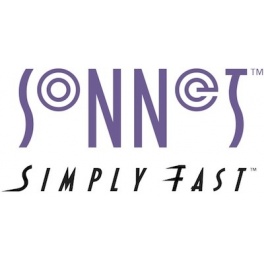 Fusion F3
Portable 2 drive hardware raid storage system with quad interface
ersatile Storage
Where you'll use a storage system will often determine your selection. Whether sitting on a desk, mounted in a server or equipment rack, or placed on whatever surface you can find while working on location, Sonnet's Fusion™ F3 is a great choice for your high-speed storage needs. This 6TB(1), 2-drive hardware RAID storage system has the features demanded by audio and video professionals—high throughput performance, high capacity, rugged design, and quiet operation—plus the flexibility of a quad interface and the convenience of an integrated universal power supply. Fusion F3 encloses its high-performance 3.5" 7200 RPM SATA drives in a stylish aluminum and steel case that fits equally well in recording studios, high-end A/V racks, and desktop or mobile video editing systems.
All the Right Connections
Connecting Fusion F3 to your computer is simple. This storage system features a quad interface that requires just a single data cable to connect the enclosure to an eSATA host controller card for the fastest data transfers possible. This efficient interface simplifies setup and cuts cable clutter without compromising performance. No SATA? No problem—connected via a single FireWire® 800, FireWire 400, or USB 2.0 cable, the drives can be accessed at the full speed of the respective interface. Sonnet includes the cables for each interface (USB 2.0 with standard, full-size A and B connectors, FireWire 400 to FireWire 800, FireWire 800, and eSATA with Sonnet-exclusive locking connectors) so you don't need to buy a new one or search for a spare.
Fusion F3's efficient quad interface makes it a cinch to connect to your computer or its SATA controller card. Select the eSATA or FireWire 800 interface for maximum speed or medium speed respectively, or choose FireWire 400 or USB 2.0 for flexibility. Sonnet includes the cables for each interface, so you don't need to buy a new one or search for a spare.
Internal Hardware RAID
A built-in high performance RAID controller manages Fusion F3's drives and supports Fast (RAID 0), Safe (RAID 1), and, particularly important to the pro-audio community, JBOD(2) (Just a Bunch of Disks) configurations, so you can choose the setup that best suits your needs. Whether you choose Fast for the best performance, Safe for a mirrored backup of your data, or JBOD to work with twice as many audio tracks, changing the drive configuration is nearly as simple as turning the knob on the front of the enclosure and pressing and holding the recessed format button, no application software is required. Unlike some other storage systems, if you move the F3 from computer to computer and change configurations for new projects, you don't have to worry about whether the RAID control application is installed on each computer. Because drive configuration is OS independent, the F3 can be connected directly to an audio editing/mixing interface (and other devices that support the feature) via FireWire interface without requiring a computer to link the storage system and device.
Maximum Performance
When set to Fast mode (RAID 0) and the system connected through an eSATA controller like one of Sonnet's Tempo PCIe orExpressCard/34 host adapters, Fusion F3 can sustain transfer rates of up to 200 MB/sec read and write, perfect for multichannel audio work and fast enough for multiple streams of compressed video editing. When set to Safe mode (RAID 1) and the system connected via eSATA, Fusion F3 can sustain read/write transfer rates of up to 105 MB/sec while protecting the data by mirroring files on both drives. When set to JBOD mode and the system connected via FireWire or USB, Fusion F3 supports independent seeks of its drives, enabling your audio editing app to work with twice as many tracks as RAID 0, RAID 1, or Span configuration will allow.
Rugged and Reliable
Fusion F3's rugged aluminum and steel case is designed to withstand rough handling, but what's inside makes this storage system unique and well suited for use in environments such as moving vehicles and front of house equipment racks that cause lesser systems to fail. Mounted side-by-side, each of the F3's drives is mounted on its own multi-axis shock/vibration isolation sled to virtually eliminate vibration-related problems such as missed seek operations, and cross-coupled vibration—a potential source of soft-error-induced skipped frames in video capture and playback. Fusion F3 supports Sonnet's exclusive locking eSATA cables, which provide a secure link between the F3 and Tempo PCIe and PCI-X eSATA host controller cards, even when subjected to heavy vibration. Dual temperature-controlled fans with automatic failover help ensure system reliability in difficult operating conditions. Doubling up on fans offers another advantage over storage systems using a single fan by operating at lower speeds and moving more air through the enclosure. In addition, lower spinning speeds mean less noise in your working environment.
No customer reviews for the moment.
30 other products in the same category:
No Trouble Brussels

Address:

Rue Artan, 120

1030 Bruxelles

Belgique

Phone:

+32 2 248 16 96

No Trouble Genappe

Address:

Rue Bruyère d'Elvigne, 6

1470 Genappe

Belgique
Our strengths
20 years experience

Quick delivery

Tailor-made services

Secure payment