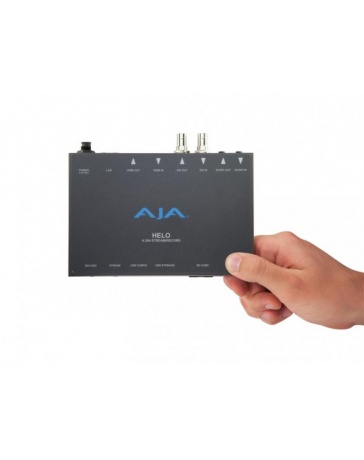 Maximize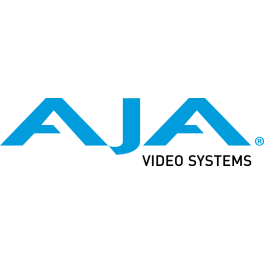 Helo
Stream, Record, Deliver
H.264 at the touch of a button


HELO is AJA's new H.264 streaming and recording stand-alone appliance. HELO brings both SDI and HDMI I/O into a single appliance with the ability to simultaneously stream out to your Content Delivery Network (CDN) as well as encode and record beautiful H.264 files to either SD cards, USB storage or network based storage simultaneously.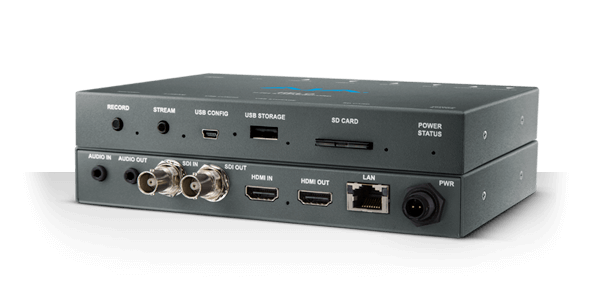 Portable and Packed to go
HELO's small and robust form factor is essential for your busy schedule. Live events, webcasts, production and post locations vary and you need a device that can take the heat. HELO is designed to travel well, fit wherever needed and continuously deliver; all with full size connectivity.
HELO offers both 3G-SDI and HDMI source inputs in a single device with the ability to encode up to 1080p 60 in beautiful and efficient H.264.
Stream out to your Content Delivery Network (CDN) and record to SD cards, USB storage or network based shares simultaneously.
Encode
Your goal is efficiency with beautiful results.
HELO encodes to H.264/MPEG-4 ensuring bandwidth efficiencies with widely compatible files. From tablets to Smartphones, Desktops to Smart TVs, no translation necessary.
2-Channel Stereo Audio can be encoded at up to 24-bit 48kHz at data rates ranging from 32kbps to 256kps in MPEG-4-LC, allowing you to make the most appropriate choice for your project's needs.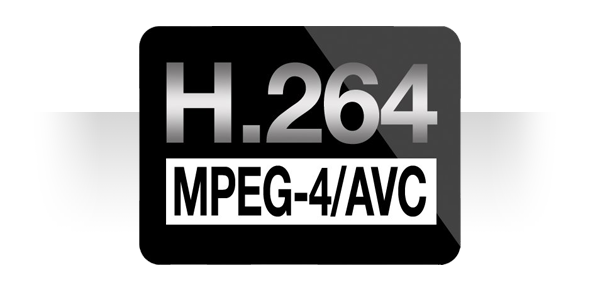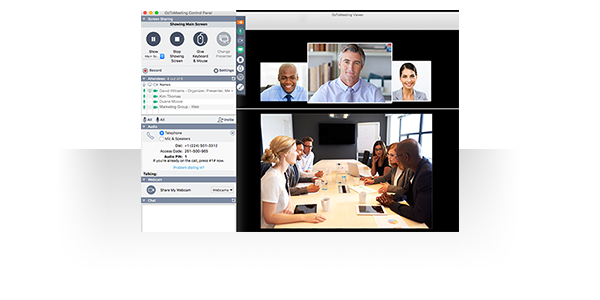 Stream
Streaming can be complex. HELO makes it simple.
A USB connection and robust web-browser based UI allows you to setup and configure your CDN connection before you even arrive at your event. Once there, simply press the Stream button and deliver your project across HELO's Ethernet connection, which allows support for RTSP and RTMP.
Record
Live means Now. Live means Pressure.
HELO offers a dedicated Record button right on the front of HELO's small and mobile interface for immediate recording. Simply plug in your FAT 32 or exFat formatted USB drive, SD card or connected network storage and record immediately.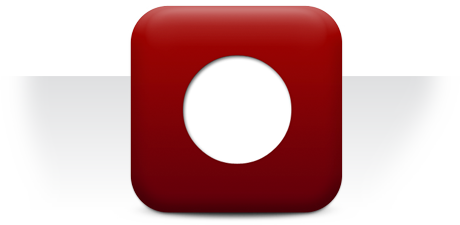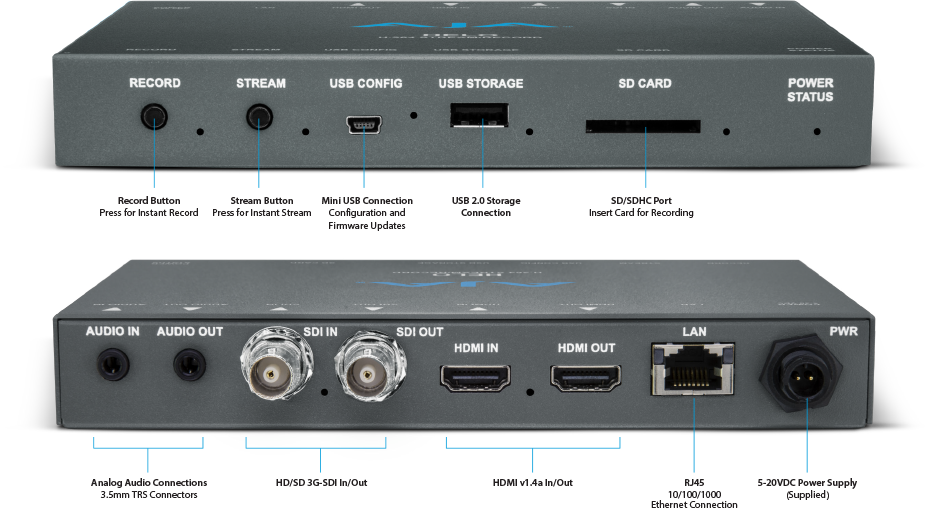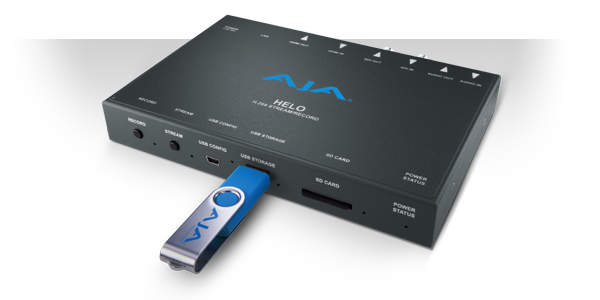 Mass Media
Cost effective media choices.
HELO's H.264 based encoding not only ensures beautiful, efficiently sized files, it means your recording medium choices are wide open. Utilize USB thumb sticks, drives and RAIDs, common SD or SDHC media or network shares. Pick to suit your project.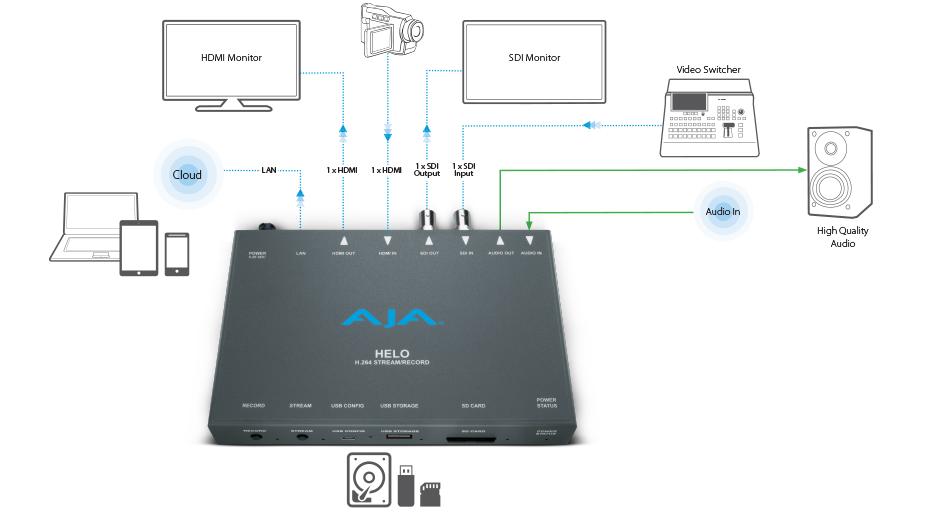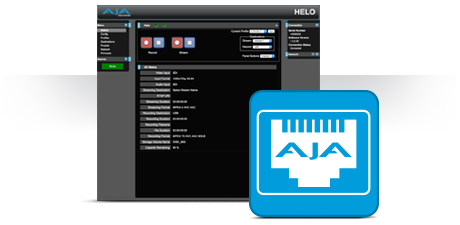 Webserver Built In
HELO's easy to use web-browser Interface make HELO simple to setup, configure and update firmware at any time, from anywhere. You can connect to HELO either via its direct USB port to set static/dynamic IP addresses though AJA eMini-Setup software or over the network using HELO's web server generated UI.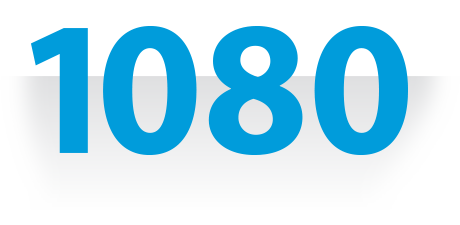 Expand your Choices
HELO supports your most demanding HD needs with up to 1080p 60 support. Simply connect via 3G-SDI or HDMI and record H.264 files and stream out to a LAN or across the web. HELO is the perfect compliment to any professional workflow, easily connecting to a range of HD capable devices.
No customer reviews for the moment.
23 other products in the same category:
No Trouble Genappe

Address:

Rue Bruyère d'Elvigne, 6

1470 Genappe

Belgique
Our strengths
20 years experience

Quick delivery

Tailor-made services

Secure payment